Are there room for improvements at a busy practice?
The saying "early bird gets the worm" holds true for many dental and medical practices when it comes to scheduling an appointment. Many practices are booked far out in advance, as far as 3-4 months. I don't have much luck when it comes to booking a well visit or regular check up appointment for my kids on days where school is not in session, early dismissal, or in general, an early morning or late afternoon time preference. Having a busy practice is great, but having an efficient, busy practice is better.
5 Tips for a Busy Front Desk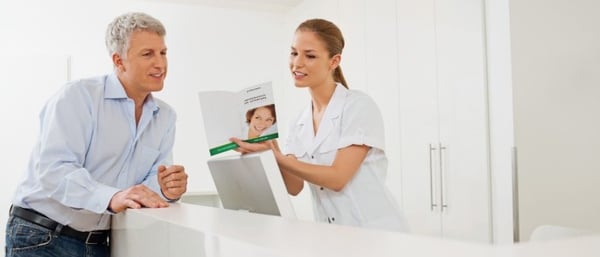 Front desk handles most of the business aspect for your practice. This area is responsible for communicating with patients, scheduling appointments, making sure patient information is in the system before patients are to be seen by a doctor and in some cases, front desk is also responsible for checking patients out, collecting payments, and handling insurance claims. The first impression that a patient gets from your practice is upon arrival at the front desk. It represents your practice in the eyes of patients. Evaluate how your front office is managing the workflow and consider technology advancements that will bring positive impacts to your practice. Here are some ideas to boost the second half of 2018!
1: Implement automation for certain tasks
The amount of processes and tasks to complete at a practice can be long. However, those tasks and processes can be improved to save you time but more importantly, to keep you happy and on track. Some automation tips are:
Request patient information and forms prior to the appointment. If you can automate the data entry process into your software, this would save you some time in having to enter the information manually. Additionally, forms completed online by typing in the information is easier to read than forms completed by paper and pen.
Prepare standard templates for procedures, letters, and other communications to patients or other professionals to streamline the process and eliminate repetitive tasks.
Consider storing all patient information, documents and images in your software so information can be easy to access, index, search and retrieve.
Evaluate an automated system that will send out appointment reminder and confirmations.
2: Establish workflow
As mentioned previously, automation can help improve many of the redundant tasks at your practice. It is important to review your current workflow and maximize your efficiency with the use of workflow automation. Outline an internal patient flow chart so you can understand what area(s) you want to improve on. Is it patient data input, account collections, or check-out process that is causing the bottle neck? One way to improve on your workflow is to create a standard in what information is mandatory to obtain from a patient prior to the dental appointment. For example, missing insurance information can cause a delay in pre-billing for services, submitting claims, or providing patients with treatments that are covered under an insurance policy.
If you have an online intake process, consider how to make data input fields required for the insurance section. Since not all patients have insurance coverage, you can ask a general question of Do you have dental insurance? If yes is selected, identify data fields that are mandatory in order for your practice to submit a claim, such as insurance policy holder's information and policy ID number.
3: Reduce patient wait times
Have you checked online to see what your patients are rating your practice's average wait time? A dental office received excellent reviews on the office environment and the friendliest staff. However, the average wait time at this practice is 16-30 minutes. How important is this factor when deciding what dental practice a patient wants to see? A survey by Software Advice from 2013 concluded that wait time is the most important administrative information for patients when checking online review sites compared to options of billing/payment, staff friendliness, ease of scheduling, office environment/cleanliness, and other.
Is it possible to improve this to an average wait time of under 10 minutes? Absolutely yes! Here are easy to implement ideas:
Encourage patients to submit reviews online to help improve your average wait time. Did you know 43% of patients surveyed check out Healthgrades online for reviews and ratings? Have you checked yours lately?
Implement a survey that will help track the patient's time at your office. For example, patients can track when they arrived, when they got walked back to the operatory rooms, when the doctor arrived and left, and how long it took to check out.
Obtain patient information and completed patient registration forms before the appointment.
Consider telehealth for consultations and follow-up visits
4: Consider electronic devices
The use of medical devices have been well implemented in hospitals and private practices. Patient care is being affected with the transformation of portable devices. The ability to integrate wired and wireless network technology is enhancing the real-time capability of accessing patient information by doctors and team members. A common healthcare challenge for many practices is managing the flow and collection of patient data so that patients can be seen quicker. Consider the use of electronic devices that will integrate with your electronic medical record system or practice management software. If you plan to implement the use of tablets at your practice, consider these factors: ease of use for your team and also for the patients, performance and speed when multiple devices are connected to your wireless network, and security measures when using these devices to enter confidential information.
5: Streamline the communication process
Delays can often lead to unhappy patients. Did you know that gaps in communication have been identified as one of the top three causes in medical errors? Patient communications can be improved in areas such as appointment scheduling, appointment reminders, patient referrals, and patient registration/in-take process and check-out.
How often do you refer a patient to a specialist? Patients are often provided with a referral slip if they need to see a specialist. A patient will contact the specialist office to schedule an appointment. What is the next step? Will your practice send additional patient information to the specialist? If you do send patient referrals to specialists, consider a standard guideline on what needs to be communicated to the specialist, such as adequate information on tests, x-rays and additional documentation about the patient. A structured and consistent referral process will reduce the delay in treating your patients. Automation will also help improve the referral process and remove some duplication in manual entry when required information gets transferred from your practice to a specialist practice.
Changes can be hard and are usually resisted by many. Although challenging, the rewards of automating a workflow in a healthcare setting are reducing risk of data input errors, a better patient care experience, improving internal and external communication and many more.
Read our previous blog post on Dental Technology Trends to Watch in 2018
---
Dental eShare offers online dental patient forms, secure email, document library, software integration your practice management software, such as Dentrix, Dexis, Eaglesoft, Kodak Dental Imaging, OrthoTrac, Schick, Softdent, and WinOMS, and secure patient referrals system. Dental eShare can help transform your workflow and improve practice efficiency. Our forms are mobile friendly for patients to complete from anywhere at anytime. Click on the button below to schedule a web demo with us today.