What is Safe Browsing and How to Keep Viewers on Your Dental Website Longer?
What will viewers do when they get to a notification message of "This site may harm your computer."? 82% of the visitors will leave that site according to Hubspot 2017 research survey. Understand your web audience's behaviors and what security steps you can take to make your website safe and easy to navigate for users to access valuable information.
How do you deliver information to current, new and prospective patients? Do you have a dental internet marketing strategy? Information about your practice can be delivered through multiple communication channels. Here are some examples of how someone can obtain information about your practice:
Mass media - radio, television, newspaper or direct mail
Oral communication - over the phone, word of mouth or community/local events
Electronic - Website, Google ads, social media or emails
Google Chrome is the most popular web browser, representing a 44.5% of the market. Apple Safari came in second at 25.4% and Internet Explorer took third place at 15.5%. Since Google dominates a large percentage of the market, it is important to evaluate your website based on Google standards.
Understanding website viewers' behaviors
Provide Safe Browsing Environment
Google is keeping their visitors safe by helping them identify when a website is not safe to view or a content is potentially dangerous to download. Google Safe Browsing is constantly reviewing billions of websites per day to make sure that they are safe for web viewers to visit. If Google Safe Browsing identifies a website as unsafe, it will alert the viewers that the website or contents on the site can potentially be harmful. There are thousands of unsafe websites being added to Google's report daily, and many of them are legitimate websites that have been hacked but went undetected. Check your website today to know that your website is safe for viewers to access. Click on the button below for a free status check on your URL.
Strong Focus on Visual Content
Many people are visual learners. According to Pearson, 65% of that population are visual learners. The need to be creative in delivering your content is critical in the design of your website, so that the end users are more engaged and information being delivered is retained. Here are some statistics on visual information:
We generally remember a picture better than reading text information about the same topic. Our brain processes visual information 60,000x faster than text and provides us with "snapshots" of what we have seen. A website with powerful visual content will allow you to grab viewers' attention faster.
Did you know that visual information represents 90% of information transmitted to the brain compared to our other senses? Incorporate images with text information to deliver your message to your viewers.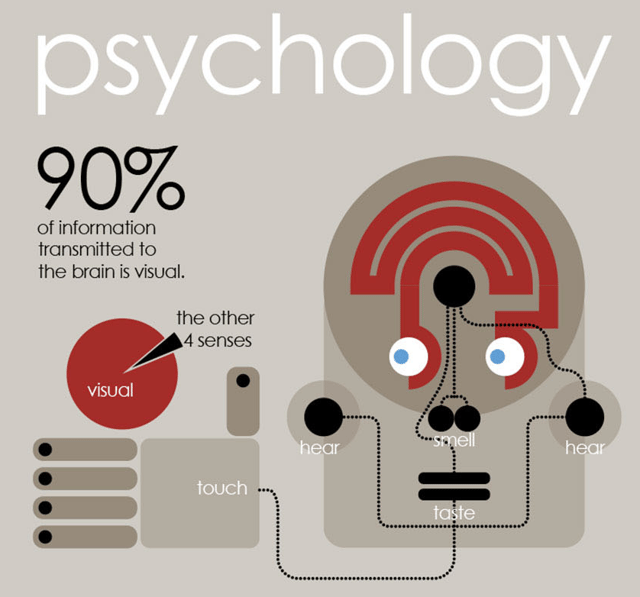 Source: Mammoth Inforgraphics (http://mammothinfographics.com/why-infographics/)
Mobile Friendly First
Mobile internet traffic from mobile devices, such as phones and tablets, represents 52.64% total of web traffic in 2017. What is mobile first approach and how will that benefit your website? The mobile first strategy is focusing your web design around mobile devices first before concentrating on traditional larger screens, such as desktop monitors and laptop screens. Mobile optimization makes websites look great and function well for users on mobile devices. Test your website on your phone or tablet to gain a better perspective of what your viewers are experiencing when accessing your website. Here are some things to consider:
The loading speed of contents on your website. 53% of mobile users will leave sites that have a load time of more than 3 seconds.
If you have videos, are viewers being directed somewhere else or can they view the videos on your website? From a mobile user perspective, give your audience the ability to watch the videos without having to leave your website.
Are you listed as a business on Google maps? There are many benefits in having your practice listed as a Google place. First, it is free. Second, it allows your patients to quick locate your phone number and directions easily on a phone. Third, it extends your marketing effort locally because it will show up on the first page of the search results on Google.
User Experience in Mind
How do you want patients to search for your practice? Do you go by practice's name, doctor's name or both? Try to search for your practice online.
Quickness and convenience - How quickly can someone locate your practice's information online? It is easier for you to navigate your own website than it is for a new user landing on your website through searches. Have a quick survey for patients to complete about usefulness of your website.
White space - keep your online information cluttered free and add white space so users can stay focused.
Continuous scroll - the ability to scroll through your website to navigate to the information without having to go through each drop down list to select the contents they want to read.
Source: Hubspot research survey (https://research.hubspot.com/charts/ssl-matters)
Read our previous blog post on The Affect of Dental Tourism.
---
Dental eShare offers online dental patient forms, secure email, document library, software integration your practice management software, such as Dentrix, Dexis, Eaglesoft, Kodak Dental Imaging, OrthoTrac, Schick, Softdent, and WinOMS, and secure patient referrals system. Dental eShare can help transform your workflow and improve practice efficiency. Click on the button below to schedule a web demo with us today.